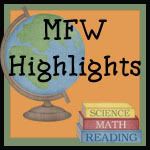 So the happy day! The day finally arrived when we got to start our new books! So, here is a little re-cap of how the week went.
As you can see the girls had their picture made with the subject of our first couple of history lessons. We live near Rome (not Italy) and our Rome has a little statue of Romulus and Remus. My son, the one who is studying RtR, would not have his picture made with that "gross" statue! (his words) :)
Really, I don't have a lot to share about our first week. We just picked up the books and went with it. I did add in the "Story of the World" on CD where I could. I love the format of MFW and they just make it easy to pick up and go.
Now, on to 1st grade!
Little Jenna is just the most excited little girl about her new books and she thought we were never going to start. Finally we did and although I had kind of got freaky about not having a grid (I did wind up with a very nice grid, btw) It is going well and I am WRITING IN THE TEACHER'S MANUAL! *GASP*
Yes, I am making myself notes about read-aloud books and other things that I am afraid I will forget. I use the grid and make notes. I am most afraid of forgetting something to do with math. I ran across a site just full of ideas
Mama Jenn
(if you have not been there and you are using MFW check it out!) I LOVED the
Calendar Notebook
idea and quickly made one for Jenna. I put our Number of the day sheets and 100 chart in it also.Very cool!
One more thing we did a little different was the base ten sticks. The idea of trying to glue beans on a stick just made me shiver with dread. My Jenna is a girly-girl and someone on the MFW boards had said they used stickers instead of beans ( I think it was Crystal). I knew for Jenna that stickers would be a lot more attractive than beans, then the idea of some bling instead of beans hit me!!! So , here is Jenna's base ten stick in the works.
I found these jewels in the craft section of Walmart.
She loves it already!
For the scroll, instead of making one I purchased one from
Miller Pad and Paper
. It is working out great!
So, we are off to a great start!
I have worked hard tweaking our schedule and it paid off this week. We were in revival meetings nightly with my husband preaching and we did all of our school, kept the house clean and had 3 healthy, home-cooked meals a day! Now I feel like I have accomplished something!!! What a great feeling! Thanks in no small part to the ease of use this curriculum offers. What a blessing from God!
A few more snap shots:
Little Janie is always by our side!
He did not want his picture made....shhh... don't tell him!
She works so hard!
Playing while we read :)
So what is missing??
She is! My Jessie! She is in high-school you know and that means that she is working in her own space for the biggest part of the day and I MISS HER being in the books with me. Always an eager one to learn, especially when it comes to history! So, I am still trying to adjust to this and she is beginning 10th grade!(doing WHL) I know that she has to have quiet to do all of that studying and writing, but sometimes I just want them all around the table. So, I may just start a family read-aloud and use an awesome
Lamplighter
book! You just never know what I will come up with!
Happy Homeschooling!
{this post is linked to Homeschool Highlights in MFW at
2 Ladybugs & a Lizard
}